How to Place a Reprint Order with Elsevier
Placing a reprint order with MedReprints is quick and easy. Simply follow the below step-by-step instructions to order reprints or eprints.
Should you need or prefer to work with a MedReprints Customer Success Manager directly, please visit the Contact Us page to find contact details for the team member in your region.
Request a MedReprints Account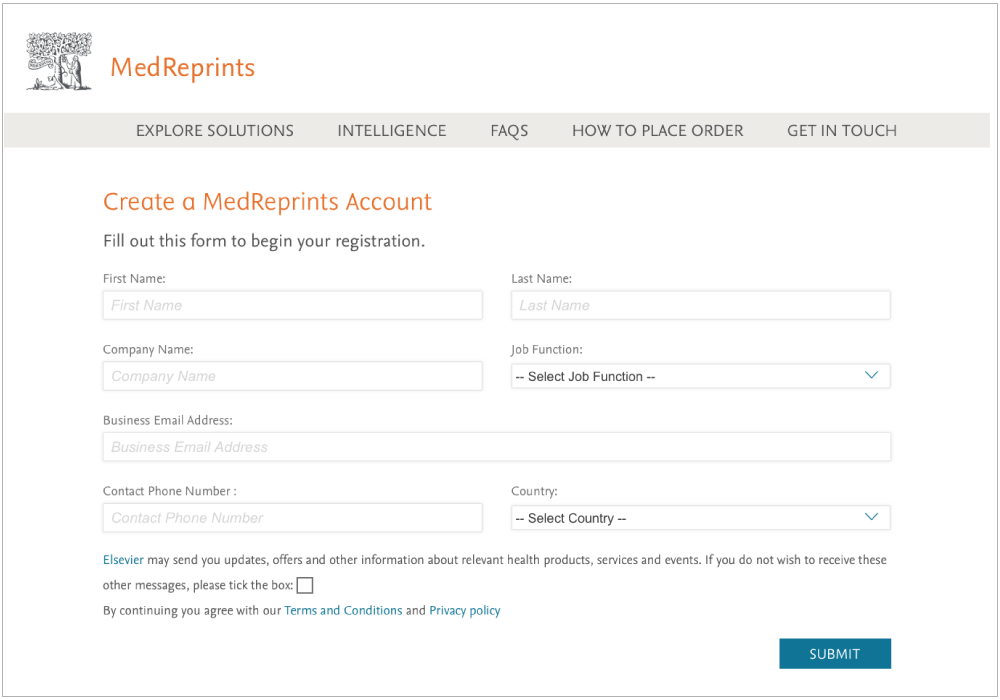 Request a
MedReprints Account
To request a MedReprints account, complete the registration form and your details will be sent to a MedReprints Customer Success Manager to complete the registration process. Please allow 4 business hours to complete the process. Your MedReprints Manager will contact you via email once your Account is ready.
Search

Search
Search by keyword, author, or journal name.
Select an Article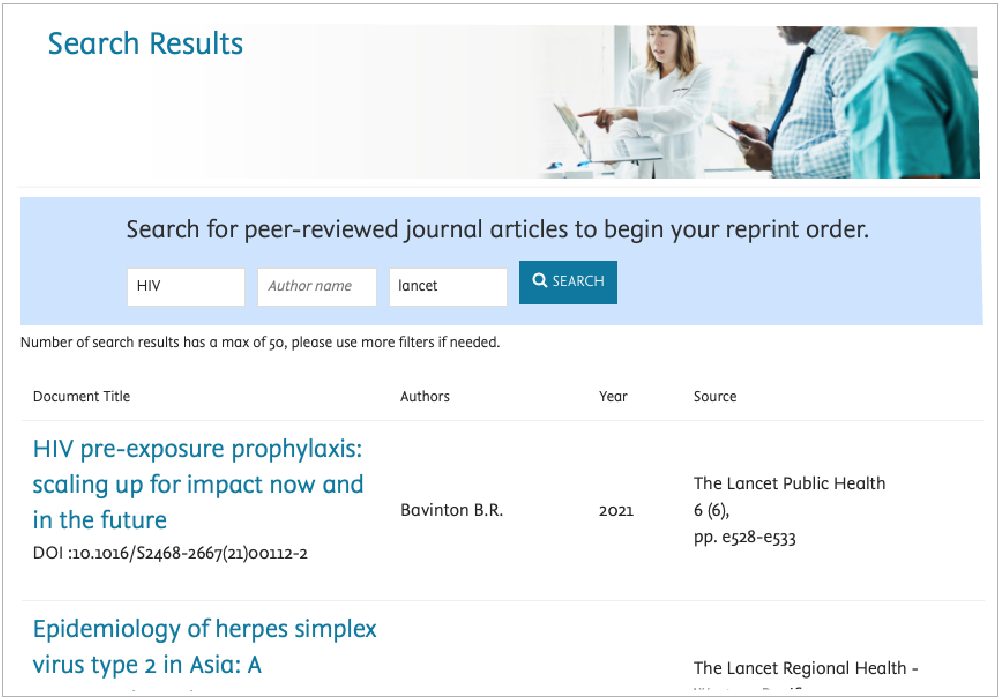 Select an Article
Click on the article title to open the article page.
Confirm your Article Selection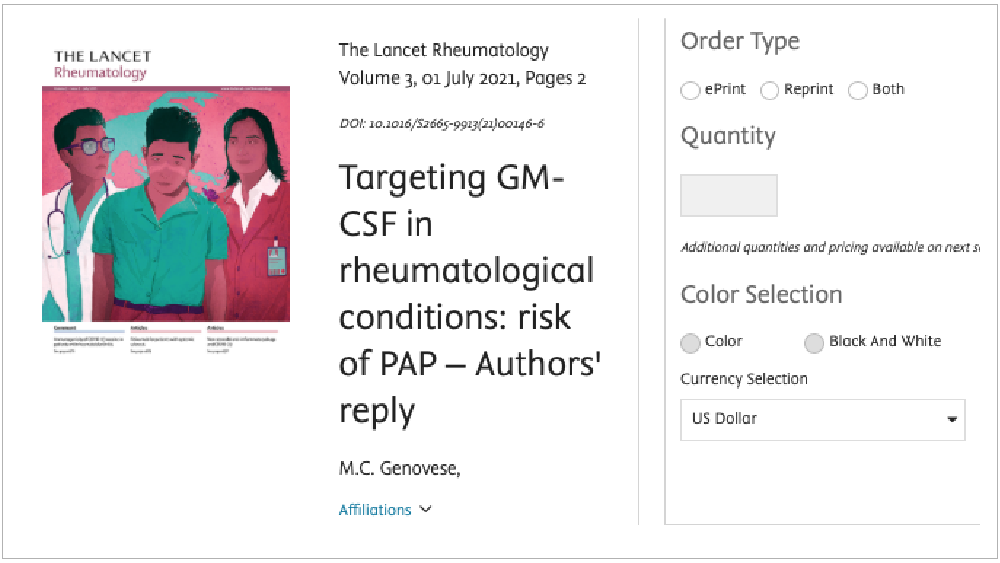 Confirm your
Article Selection
Use the Article Preview feature to view the full article. This may also help inform you as to whether or not the article will print best in color. For most journals, you will have the option to select Black & White printing.
Get Quick Pricing or a Detailed Quote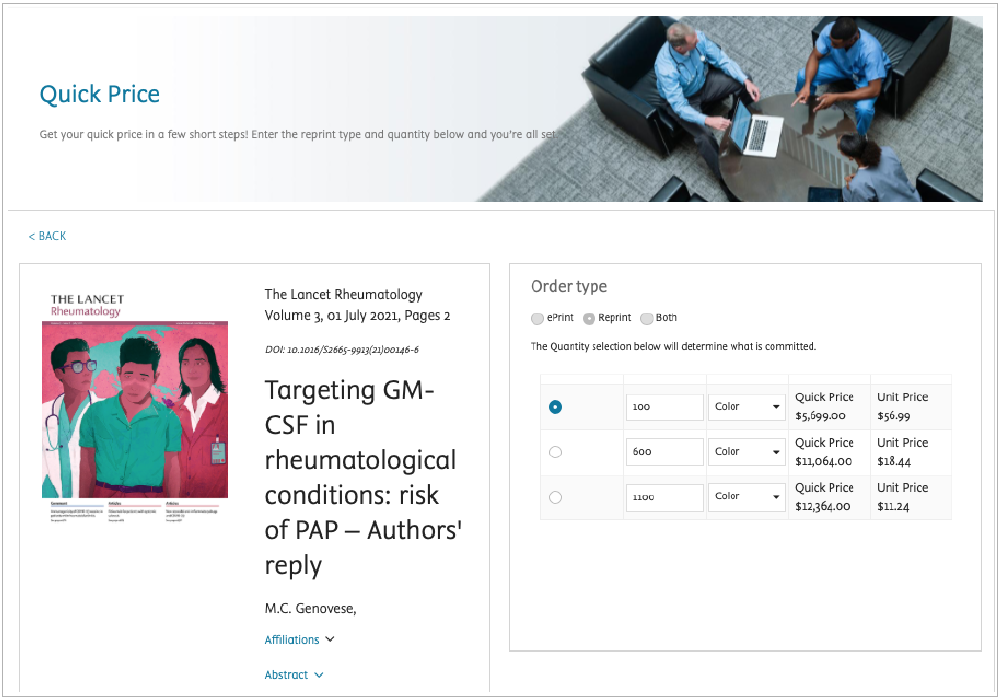 Get Quick Pricing or a
Detailed Quote
To get a Quick Price, you enter just a few details to see preliminary pricing. The Quick Price results screens allows you to enter additional quantities and adjust the color selection. The pricing is updated in real-time. Quick Prices are not binding and are subject to change without notice. You can either Save for later, add another article, or move ahead with a Detailed Quote. If you choose Save for Later, the Quick Price will appear in your Shopping Cart for 30 days. The Shopping Cart can be found on your dashboard.
You may also proceed directly to a Detailed Quote from your search results or from the Quick Price screen. You can then move on to placing your order once all details have been entered. Mandatory fields are noted with an (*). For reprints, mandatory fields are: Quantity, Color Selection, Shrink Wrap, Paper Size, and Shipping details. For ePrints, mandatory fields are: Access Type, Quantity, and Delivery details. Additional options, including translations, are available for both reprints and ePrints. As you make your selections, the pricing will be updated in real-time.

Confirm your Article Selection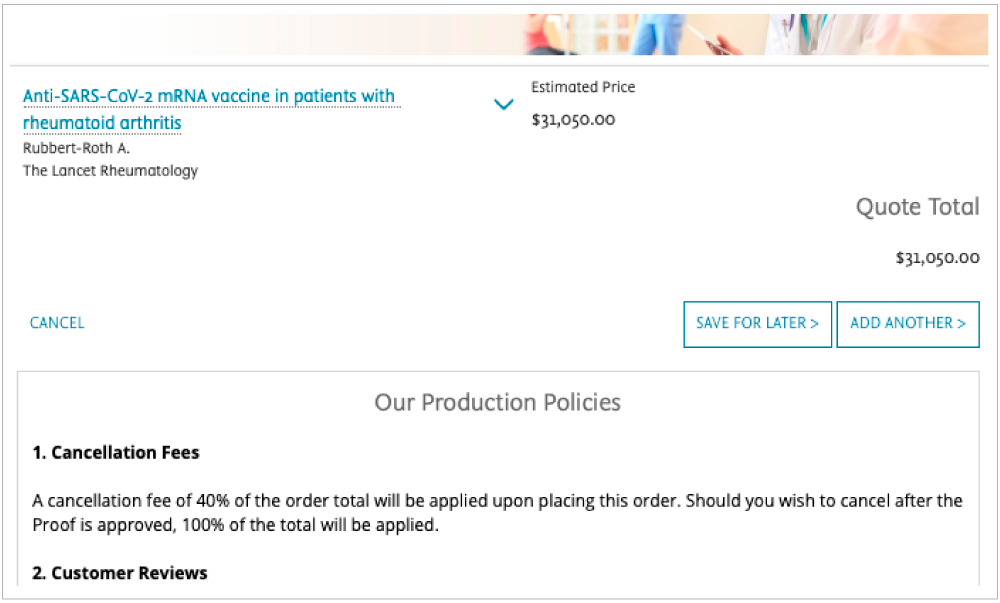 Review Order
Once you have entered all specifications, review your order details prior to placing the order. This includes the standard MedReprints Production Policies, notes on your Order Selections and Elsevier's Terms & Conditions. You will have to read and agree to all of the above in order to place an order.
Place Order

Place Order
Once you've reviewed your order and have agreed to all of the policies, you are ready to place your order. From this point, it will be a binding contract with Elsevier and the cancelation policy and associated fees will apply. You will receive an Order Confirmation via email. You may also log into MedReprints at any time to track the progress of your order.